Student Drop-Off & Pickup Traffic Policies
John Muir has a traffic policy to keep our community safe (last updated 10/23/22)
Morning Drop-Off and Afternoon Pickup
34th Ave S. is one-way moving south only between Horton and Hinds
33rd Ave S. is one-way moving south only between Hinds and Spokane
Follow the traffic flow map on this page.
Morning Drop-Off Procedure
Pull up to front of drop-off area (cutout on 34th or north side of Hinds). Students exit car on school-side, curb-side only
Drop students at 34th Ave Gate or Hinds Gate
Afternoon Pickup Procedure
Park nearby and walk onto to the playground to meet your student(s).
Students enter car on school-side, curb-side only
Kids need a walk pass to leave without an adult–talk to Erika or teacher(s)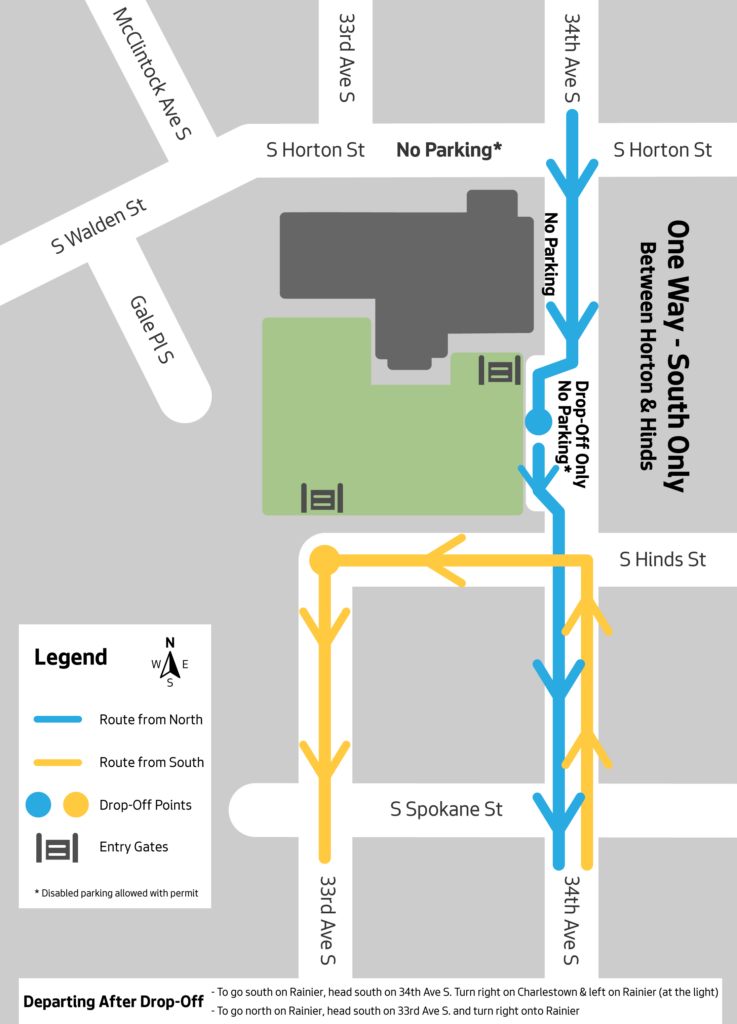 Rules to keep kids and families safe!
Please treat staff in neon vests and other families with kindness, respect, and patience.
SAFETY is our top priority!
Drive <10mph when within 3 blocks of Muir
Do not back up or do u-turns.
Pedestrians have the right of way at ALL intersections.
Come to a complete stop the whole time someone is crossing.
Always drive on the right side of the road; don't cross traffic to park or pass.
Use your blinker to help pedestrians know
Pedestrians: always cross at intersections (not the middle of the block), ideally with an adult

If you can, walk or bike to school. It's a fun way to get exercise, improve learning, reduce traffic and accidents, and connect with community!